High-Performance-Shaker Controller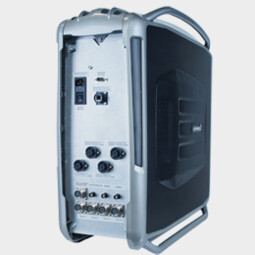 It takes efficient electronics and software for the hydraulic shaker to achieve its full performance. The controller's centerpiece is a Quad Core PPC CPU of 2.2 GHz clock speed and 2 GB RAM. Being combined with an ultra-fast bus system (GinLink), nearly as many interfaces for all kinds of signals can be integrated like is the case with PLC controls. Only, in this case the data transmission is many-times faster and facilitates control sampling rates of up to 16 kHz.

In its basic version, the controller provides 16 digital in- and outputs for 24 V. Additionally available are 8 analog inputs, 3 of which are intended for measuring functions. Usually, one of these three channels will be used for an acceleration sensor. Being equipped with BNC plugs, 2 inputs can be used for other measuring functions. The number of interfaces can be increased at any time and at low costs, whereas modules for nearly all kinds of signals arae available.

The electronic equipment comes with a high-performance 24 VDC power supply of 30 or 40 A for the servo valves' control. Additionally, a safety circuit that allows for the drive's deactivation at any time has been intergrated. The illustrations show the electronic equipment being installed in a convenient PC rack. However, depending on the respective application or number of interfaces it may alternatively be advisable to install it in an industrial control cabinet.
| | | |
| --- | --- | --- |
| Controller | | Quad Core PPC CPU |
| Clock rate | | 2.2 GHz |
| RAM | | 2 GB |
| Ethernet | | 1 GBit/s |
| Bus system | | 2x Gin-Link |
| Sampling-Rate | | 16 kHz |
| Servo valve | | up to 8 |
| Power supply | | 24 VDC, 40A |
| Connected load | | 230 VAC, 400 VAC, (460 VAC), (110 VAC) |
| digitale inputs | | 16, 24 VDC |
| digitale outputs | | 16, 24 VDC, 1 A |
| analog inpputs | | 8 |
| analog outputs | | 8 |